Youth Red Cross Society (2019-20)
Convener: Dr. J D Chauhan
The College has an active Youth Red Cross Society to promote Voluntary Blood Donation, First Aid Training, and the Importance of Casting Vote in the elections. The unit currently has considerable volunteer strength. The activities organized by the society are as follows:
Date
Event
Organized by/at
Guest/ Resource Person
Details/ Attended by
6-Feb-2020
Awareness Program For Senior Citizens
Anugraha foundation Venue- Honor Center Ambala Cantt
Advocate Balram Singh (District Legal Services, Ambala), Arun Prasad (Manager Anugraha, Delhi
1.Elderly persons were told about their legal rights.
2.They were also informed about the pension programme
30-Jan-2020
Basant Utsav
Sanatan Dharma College, Ambala Cantt
ADC Jagdeep Dhanda
1.Kite festival
2.Motivational speech
26-Jan-2020
Republic day celebration
Sanatan Dharma College, Ambala Cantt
SDM Ambala Cantt
Parade of the volunteers of YRC
15 to 22-Jan-2020
First Aid Training Camp
Sanatan Dharma College, Ambala Cantt
Mr. M.K Sharma
1.Basic theory of First Aid was given to volunteers.
2.CPR and artificial respiration training was given.
3.Volunteers were told about bandages and its type and how to apply it
4.Volunteers were also told about fractures and different slings.
10-Jan-2020
Workshop on Inter -Generational Bonding
Sanatan Dharma College, Ambala Cantt
Mr. Balram Singh (District Legal Services, Ambala), Arun Prasad (Manager Anugraha, Delhi)
1.Seminar was aimed to sensitize youths towards their parents and grand parents.
2.Resource persons inform students about the term generation gap and how to decrease it.
3.Volunteers also participated actively during the seminar
26-Dec-2019
Surya Grahan Mela, Kurukshetra
Government of Haryana
Parth Gupta (Additional Deputy Commissioner and Fair Administrator, Kurukshetra),Dr. S.S Fulia (Deputy Commissioner ,Kurukshetra)
1.Volunteers gave their services at the fair
2.Volunteers guided pilgrims to their destination
3.Volunteers assisted at doctor's desk and other stalls
15-Dec-2019
Health camp for senior citizens
Anugraha in collaboration with social justice and empowerment ministry
 Ratan Lal Kataria (Hon. State Minister Social Justice And Legal Ministry),Dr. Jd Chauhan, Dr. Sumit , Dr. Heena , Assis. Prof. Somesh
1.The event was organized for elderly and handicapped patients
2.Free medical checkup and medicines were provided
3.Volunteers assisted the on duty doctors from various hospitals.
4.Artificial limbs and wheel chairs were also provided to senior citizens
01-Nov-2019 to 6-Nov-2019
State Level Camp For Girls At Haridwar
Haryana Red Cross Society
Raja Singh Jhinger , Tej Chand Yadav.
Sh. Rohit Sharma (Camp Director)
Volunteers learn about the basic first aid techniques & about the history of Red Cross. Different resource persons gave lectures on first aid, transportation of casualty etc. Volunteers participated and got prizes in different activities. It was attended by 10 Youths.
02-Oct-2019
One Day Camp At Khojkipur 2 Oct
YRC unit
Dr. J.D Chauhan, Convenor of YRC, Sanatan Dharma College, Ambala Cantt
Unit2 guided villagers about the usage of plastic. The Sarpanch of the village discussed the problems in the village. The camp was attended by 100 Youths.
29-Sept-2019
One Day Camp At Khojkipur
YRC unit
Dr. J.D Chauhan, Convenor of YRC , Sanatan Dharma College, Ambala Cantt
127 volunteers assembled at Anganwadi center of Village , Khojkipur  Volunteers were divided into three teams for Door to Door Visit, Plastic Collection & Wall Painting.
27-Sep-2019 To 28-Sep-2019
One Day Camp At Apna Ghar
YRC unit
Programme Officer, Ambala Red Cross
20 youths disseminated the importance of cleanliness.
23-Sept-2019
Oath Taking Ceremony
YRC unit
Sh. Pawan Kumar Sharma (DSW,KUK)
180 Youths
07-Sept-2019
Mini Blood Donation Camp
YRC Unit, Lions Blood Bank
Venue-College Campus
 
Total blood units collected – 230
70 YRC volunteers participated in the camp.
30-Aug-2019
Red Cross State Award
Indian Red Cross Society
Honorable Governor of Haryana, Sh. Satyadeo Narian Arya Bhawan, Haryana
Awardees : – Dr. Rajinder Singh (Principal) & Dr. J.D Chauhan
29-Aug-2019
Fit India Movement,
YRC Unit in the college campus
Dr. J.D. Chauhan
YRC volunteers assembled in the college auditorium watched the live program along with ADC Principal and Teachers.
15-Aug-2019
Independence Day Parade
YRC Unit in the college campus
Sh. Subhash Sihag (SDM , Ambala), Sh. Ram Kumar (DSP , Ambala)
50 Youths attended the Parade & helped in certificate distribution.
10-Aug-2019
National Chess tournament
YRC Unit in collaboration with National blind foundation
Mr. Harish , Social worker, Ambala
10 Youths participated in the overall management of the tournament.
10-Aug-2019
Tree Plantation
YRC,NSS and NCC Unit of Sanatan Dharma college
Dr. Rajinder Singh
Dr. J.D. Chauhan
Dr. Vijay Sharma
Dr. Naveen Gulati
10 volunteers gave a social message by planting trees inside and outside the campus.
9-Aug -2019
Seminar on Human Rights
YRC , NHRC And Sanskrit Dept. of Sanatan Dharma College
Dr. Namita Gupta
Col. Rakesh Gautam
Dr. Kuldeep
Dr. Shashi Dhamija
Dr. Monica Malik
Dr. Rajbir Singh Malik
10 Youths and other students of the college attended the lecture on Human Rights.
23-July-2019
Rail Mela
YRC Unit In collaboration with Indian Railways
Dr. J.D. Chauhan
Mr. Somesh Gulati
31 Youths performed discipline duties, participated in the exhibition and gave First Aid during the Mela.
17-July-2019
Orientation Program
YRC Unit
Mr. Narinder Aggarwal (Dronacharya Institute, Ludhiana )
Dr. J.D Chauhan (Teacher Incharge)
An introduction of YRC was given to the volunteers of 1st year with the help of PPT which was attended by 11 Youths.
1-July-2019
One Day Camp
Red Cross
Sh. Ashok Sahu (P&O Officer)
Sh. Sonu Kumar (P&O Officer)
Sh. Sunil Kumar (Senior Establishment Clerk)
Mr. Somesh Gulati (In charge)
6 Youths visited Rehabilitation Center, Contributed at the Wall of Kindness; Service at Old Age Home Assisted physically challenged people.
Convener: Dr. J D Chauhan

The College has an active Youth Red Cross Society to promote Voluntary Blood Donation, First Aid Training and Importance of Casting Vote in the elections. The unit currently has a considerable volunteer strength. The activities organized by the society are as follows: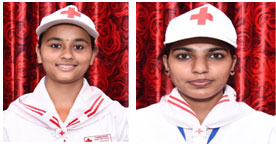 Date
Event
Guest/Resource Person (IfAny)
Place
Result/Remarks
15-Aug-2018
Independence Day Parade

Subash Sihag

SDM Ambala Cantt.

Sanatan Dharma College, Ambala Cantt
Motivational speech was given by the Chief Guest
27-Aug-2018
One Day Camp
Anil Vij- Health and Sports Minister & Sh. Ratanlal Khataria-MP
New Grain Market, Mohra
Wheel Chairs, Hearing Aids, Artificial Limbs etc were distributed to the physically challenged persons.
15-Sep-2018
One Day Camp
Manoj Saini – Programme Officer
Old Age Home, Ambala Cantt
Visited Rehabilitation Center for Disabled, Contributed at the Wall of Kindness, Service at Old Age Home
24-Sep-2018
Blood Donation Camp
Rajinder Vij
Sanatan Dharma College, Ambala Cantt
130 units of blood were collected
21-Sep-2018 to 24-Sep-2018
Interstate Camp
Ms. Kirti, Ms. Anjana, Ms. Rilima, Ms. Garima
Aurovalley Aashram, Raiwala, Uttrakhand
Sessions had been given to the youths about life.
31-Oct-2018
Quiz Competition

Resource person

Mr. Rishi from Jaipuria lnstitute, Noida

Sanatan Dharma College, Ambala Cantt

• 55 teams participated in the quiz competition

First prize of 5000/-was given to

• Akhilesh – B.Sc. Med Ill

• Manish – B.Sc. Med Ill

• Second prize-Pen Drives was given

To Nitish

Third prize of Certificates was given to

• Lokesh – B.Sc. Med Ill

Kuldeep – B.Sc. Med Ill

30-Nov-2018 to 02-Dec-2018
National Cricket Tournament (For Blind)
Sh. Subhash Chander Sihag S.D.M Ambala Cantt
Sanatan Dharma College, Ambala Cantt

• Total 60 blind players participated in the competition

• Teams from Kerala, West Bengal, Telangana, Haryana

•The event was sponsored by  Indusind bank.

01-Dec-2018
Free Health Checkup & Cancer Detection Camp at Sanatan Dharma College, Ambala Cantt

Pannel of Doctors: Dr. Sandeep Kakkar (M.D. Oncology), Dr. Girdher Gopal (Surgical Oncology),

Dr. Vijay Bansal (ENT)

Dr. Veni Mittal (Gynecologist) Dr. Vandana Goel (M.D Pathology)

Dr. Abhishek Mittal (M.D. Medicine)

Dr. Karlik Mittal (M.D. Radiology)

Dr. Sachin Singh (M.S. Endoscopy)

Sanatan Dharma College, Ambala Cantt

• Free Conclusion

• Free Medicine

• Free Tests Conducted

• Memography

• Pepusmear

• Endoscopy

• PSA

• Cancer Patients-200

General Patients-100

18-Dec-2018
Cancer Detection Camp

Sh. Subhash Bansal Rotary Club Ambala Cantt

Sh. Ajay Gupta

Sneh- Sparsh NGO

Sh. Winner Singh World Cancer Trust

Village Tepla

• 570 people examined in the camp

• Consultation was done in 4 well equipped cancer detection vans

• Free consultation was given for Oral Cancer, Throat Cancer, Gum Cancer and Breast Cancer

04-Jan-2019 to 09-Jan-2019
State Level Camp(Girls)

Camp Director-Rohit Shanna

Joint Camp Director- Sarabjeet Singh

Punjabi Dharamshala, Kurukshetra

• Total 4 youths participated

• Different Cultural activities were done

• Lectures on Social Causes like

Women empowerment, disaster Management were given to all youths by resourced persons

• 2nd prize in Group dance was given to Sanatan Dharma College, Ambala Cantt

10-Jan-2019 to 15-Jan-2019
First Aid and Home Nursing Training Camp
Trainer for St. John Ambulance, India- Paramjeet Singh Hundal
Sanatan Dharma College, Ambala

• Theory lecture on First Aid & Home Nursing

• Practical demonstration of first aid & home nursing

• Written test on first aid & home nursing

Practical test on first aid & home nursing

18-Jan-2019 to 21-Jan-2019
State Level Youth Camp(Boys)

Resource Persons-

– Mrs. Kriti, -Mr. Arvind

– Mrs. Sunita,

Mr. Sachidanand

Kumbhmela Prayagraj, U.P.

• Information about Kumbh Mela. Information about duties.

• Training workshop regarding duties. Fornation of groups.

• Duties with Doctors.

• Duties with traffic police.

Awareness Rallies.

26-Jan-2019
Republic Day Parade
SDM Ambala Cantt
College Campus

• Girls unit with 30 Youths Participated in the Parade

• Boys unit with 30 Youths Participated in the Parade

YRC unit Commander Holded the Flag & headed the Parade

29-Jan-2019 to 02-Feb-2019
District Level Camp(Boys & Girls)
Resource Persons-(Mr. Somesh Gulati, Mr. Manoj, Mr. Sanjeev Dhiman, Miss Arti Sharma, Mr. Jaipal, Mrs. Vijay Laxmi
G. M. N. College. Ambala Cantt

• Introduction of all the youths & Counselors

• Lecture on History of YRC Home Nursing & First Aid Training

Was given to the youths Cultural Activities participation by all the youths

20-Feb-2019
YRC Fest & Oath Taking Ceremony

Sh. R. C. Sharma,

Indian Red Cross Society, Haryana State Branch Chd

-Manoj Saini,

Distt. YRC lncharge, Ambala Red Cross.

-Harmesh,

Distt. Training Officer, Ambala Red Cross.

Sanatan Dharma College, Ambala Cantt

• Welcome of Chief Guest

Dr. R C. Sharma

• Different events were organized

• Office Bearers took oath

• Youths were deputed at various Events to perform duties

• Total No. of teams/colleges participated:39 Total no. of participants-178
Youth Red Cross Society(2017-18)
Convener: Dr. J.D. Chauhan
The College has an active Youth Red Cross Society to promote Voluntary Blood Donation, First Aid Training and Importance of Casting Vote in the elections. The unit currently has a considerable volunteer strength. The activities organized by the society are as follows: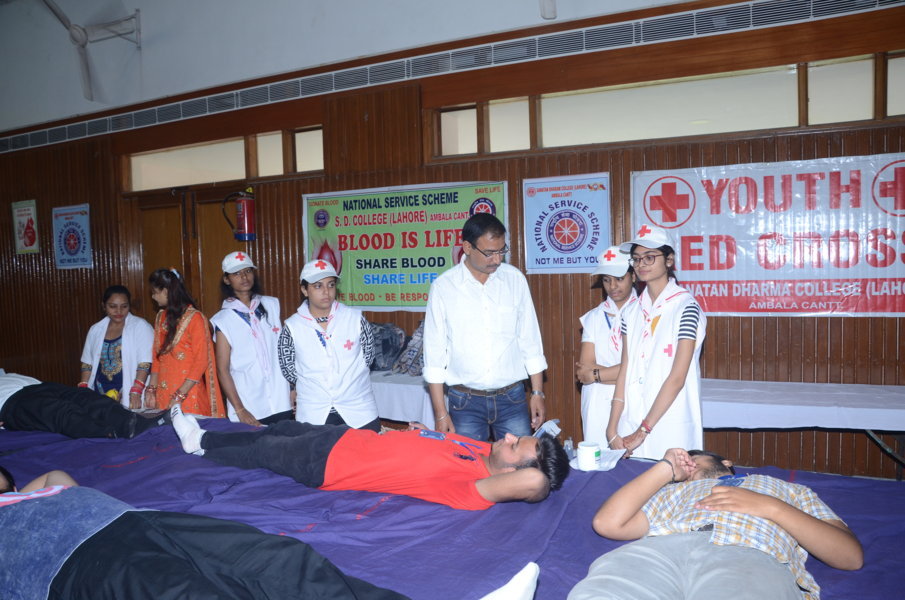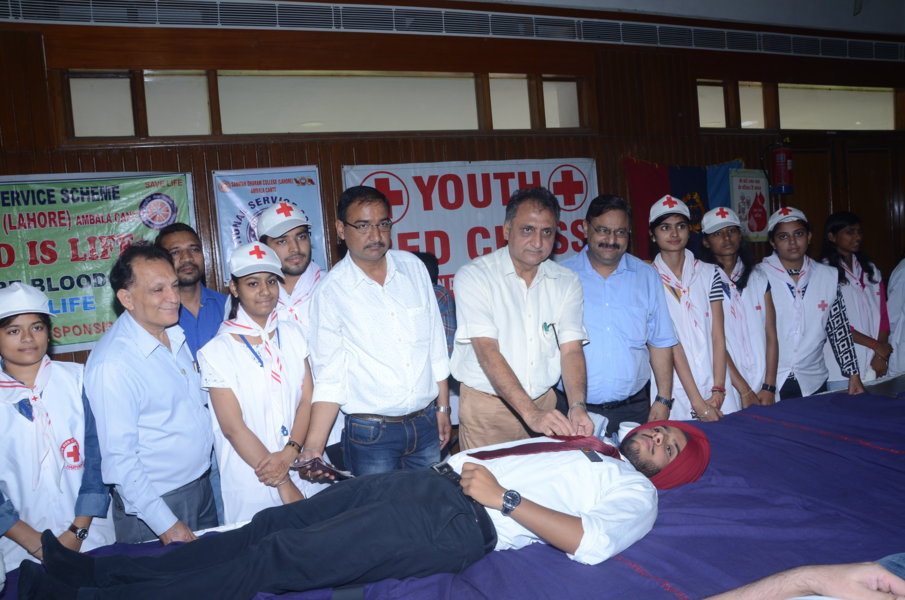 Date
Event
Organized By/At
Guest/Resource Person
Details/Attended By
01-Apr-2018 to 06-Apr-2018
Home Nursing & First Aid Course
YRC at Sanatan Dharma College, Ambala Cantt
Trainers From St John Ambulance India New Delhi
20 Youths 
11-Mar-2018 to 13-Mar-2018
Pulse Polio Programme
YRC at Civil Hospital & 20 Polio Booths of Ambala Cantt
Doctors & Nursing Staff of Civil Hospital
26 Youths
09-Mar-2018
Mega Blood Donation Camp
YRC at Sanatan Dharma College ,Ambala Cantt
President Lions Club, Ambala
32 Youths
20-Feb-2018
Red Cross State Award
YRC at Raj Bhawan Haryana (Governor House) Chandigarh
Honourable Governor of Haryana , Sh. Kaptan Singh Solanki
 
16-Feb-2018 to 22-Feb-2018
One Week Palliative Care Programme
YRC at Sanatan Dharma College ,Ambala Cantt
Dr. David Mackintosh and Dr. Jane Mackintosh from Australia
10 Youths
26-Jan-2018
Republic Day Celebration
YRC at Sanatan Dharma College ,Ambala Cantt
SDM Amabla Cantt.
30 Youths
25-Jan-2018
Inter College Competition
YRC at Sanatan Dharma College ,Ambala Cantt
Dr. Kamdev Jha (Principal D.A.V. College) Pehowa. Rohit Sharma(Ass. Secretary Haryana Red Cross, Chandigarh)
70 Youths
25-Jan-2018
Oath Taking Ceremony
YRC at Sanatan Dharma College ,Ambala Cantt
Dr. Kamdev Jha (Principal D.A.V. College) Pehowa. Rohit Sharma(Ass. Secretary Haryana Red Cross, Chandigarh)
70 Youths
15-Jan-2018 To 19-Jan-2018
District level Camp
YRC at S.A Jain College Ambala City
Resource Person From St. John Ambulance (India) And Indian Red Cross
10 Youths
13-Oct-2017
Mini Blood Donation Camp
YRC at Sanatan Dharma College ,Ambala Cantt
Rajender Vij President of Swimming Association Govt. of Haryana
34 Youths
18-Sep-2017
One Day Workshop On Disaster Management
Sanatan Dharma College in collaboration with Disaster Management Ambala
Dr.  J.D. Chauhan, Mr. Jitender Singh (Research officer Deptt. Of Revenue & Disaster Management Ambala City)
70 Youths
16-Sep-2017
PPT Competition on Cancer
YRC at Rotary Cancer and General Hospital Ambala Cantt
Dr. J.D. Chauhan
17 Youths(competition / 2)
15-Sep-2017 to 21-Sep-2017
State Level Camp (Girls)
Haryana Red Cross at Shri Krishan Kirpa Dham, Vrindavan
Governor of Haryana Rohit Sharma(Camp Director) & Sanjeev Dhiman (Haryana Red Cross)
8 Youths
12-Sep-2017
One Day Camp
YRC at Old Age Home (Apna Ghar – A Home for Homeless)
Dr. J.D. Chauhan
Prof . Heena
74 Youths
Aug-2017 To Oct-2017
Waste Management Programme
YRC in collaboration with municipal committee Ambala at Amabla Cantt
Dr. J.D. Chauhan
70 Youths
04-Sep-2017
Orientation
YRC at Sanatan Dharma College, Ambala Cantt
Dr. J.D. Chauhan
Prof. Rubi
Prof. Heena
200 Youths
20-Jul-2017 to 28-Jul-2017
Basic youth leadership training camp
YRC(in collaboration with department of youth affairs KUK) at MASSORIE
Trainers from department of youth affairs Kurukshetra university
05 Youths
20-Jun-2017 To 27-Jun-2017
YRC Adventure Camp for Boys
YRC (in collaboration with department of youth affairs KUK) at MANALI (Himachal Pradesh)
Trainers from Himachal Pradesh Mountaineering Association
04 Youths
06-Jun-2017 To 12-Jun-2017
ADVANCE YOUTH LEADERSHIP TRAINING CAMP
YRC (in collaboration with department of youth affairs KUK) at NAINITAL (U.K)
Trainers from department of youth affairs Kurukshetra university
06 Youths
Activities Organised by: YOUTH RED CROSS
Name of Teacher In-charge: Dr. J D Chauhan
| Date | Event | Resource Person | Organised at | Participants/Result/Remarks |
| --- | --- | --- | --- | --- |
| Jul-2016 | Formation of YRC Unit | Dr. J. D. Chauhan (Teacher In-charge) | College Campus | Total no. of Youths Enrolled-200 |
| 15-Aug-2016 | Independence Day Parade | Dr. A K Tandon (Retd. Vice Principal) | Sanatan Dharma College, Ambala Cantt | 57 Youths |
| 1-Sep-2016 to 6-Sep-2016 | State Level YRC Camp (Boys) | Sh. MK Arora (Camp Director State Head Quarter YRC Chandigarh) | Mansa Devi Complex, Panchkula | 7 Youths III Prize in Spoon Race I Prize in Cultural Event |
| 1-Sep-2016 to 6-Sep-2016 | State Level YRC Camp (Girls) | Sh. MK Arora (Camp Director State Head Quarter YRC Chandigarh) | Mansa Devi Complex, Panchkula | 7 Youths I Prize in Solo Dance I Prize in Skit Competition Best Coordination Team Award |
| 2-Oct-2016 | Cleanliness Drive & Tree Plantation | Sh. Rajinder Vij (Social Activist Of Ambala) | Sanatan Dharma College, A/Cantt | 50 Youths |
| 3-Oct-2016 | Orientation & Oath Taking Ceremony | Sh. Anil Joshi (Sec. Youth Red Cross Ambala | Sanatan Dharma College, Ambala Cantt | 80 Youths YRC Android App. Launched |
| 3-Oct-2016 | Blood Donation Camp | Sh. Anil Vij (Health Minister of Haryana) | Sanatan Dharma College, Ambala Cantt | 35 Youths 80 Units of Blood Donated |
| 18-Oct-2016 to 24-Oct-2016 | Inter State Level YRC Camp | JL Choudhary (Haryana Youth Red Cross Branch | Mansa Devi Complex, Panchkula | 4 Youths III Prize in Spoon Race |
| 21-Oct-2016 | Braile Reading & Writing Competitions | Sh. Anil Vij (Health Minister of Haryana | Aggarwal Dharamshala, Ambala Cantt | 20 Youths 80 Blind Boys & 25 Blind Girls Participated 9 States Participated :- Odisha, UK, UP, Delhi, Haryana, Himachal Pradesh, Gujrat, Jharkhand, Punjab |
| 22-Oct-2016 to 23-Oct-2016 | Mini Blood Donation Camp for Blinds | Sh. Anil Vij (Health Minister of Haryana) | Aggarwal Dharamshala, Ambala Cantt | 22 Youths 50 Units of Blood Donated by Blind Donors |
| 31-Oct-2016 | National Unity Day Celebration | Dr. Rajinder Singh (Principal Sanatan Dharma College, Ambala Cantt) | Sanatan Dharma College, Ambala Cantt | 100 Youths Human Chain was made by Youths March of Unity by Staff & Students in Playground |
| 9-Jan-2017 to 13-Jan-2017 | Youth Red Cross Training Camp | Sh. Mukesh Aggarwal (Vice Chairman, Haryana Red Cross Society, Chandigarh) | Govt. College Ambala Cantt | 8 Youths Best Counselor Award 1st Prize in Quiz 1st Prize in Solo Singing(F) 2nd Prize in Ext. Speech(M) 2nd Prize in Ext. Speech(F) |
| 26-Jan-2017 | Republic Day Parade | Dr. Rashimi Chaudhary (Former Head Dept. of Music) | Sanatan Dharma College, Ambala Cantt | 40 Youths |
| 27-Jan-2017  to 31-Jan-2017 | National Camp, Bhubaneswar, Odisha | Sh. Pradeep Kumar Tripathi(SBTC) Sh. Rajan Mohanti P-C ODMP, IRCS, OSB Sh. Prasanta Kumar Nayak OSDMA 2nd Prize in Quiz | NMIET Institute, Bhuwneshwar, Odisha | 6 Youths 2nd Prize in Debate 2nd Prize in Group Dance |
| 30-Jan-2017 to 6-Feb-2017 | 1 Week Palliative Care Program for Cancer Patients | Dr. David Makhintosh & Dr. Jane Makhintosh from Australia | Hospitals & Villages of Distt. Ambala | 10 Youths Special Campus Awareness Campaign for rural Public |
| 20-Feb-2016 | Blood Donation Camp | Sh. Anil Vij (Health Minister of Haryana | Sanatan Dharma College, Ambala Cantt | 44 Youths 202 Blood Units Collected, Star Blood Donors Awarded |
| 20-Feb-2016 | Free Medical Health Checkup Camp | Sh. DS Rana (NSS Coordinator, KUK) | Sanatan Dharma College, Ambala Cantt | 20 Youths 406 Patients Consulted the Doctor |